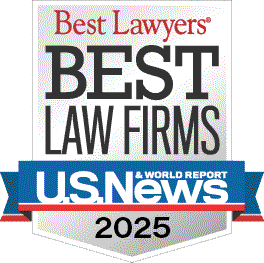 Z&R Press
Press and Media
Cleveland Jewish News
Consulting attorney early can be key in domestic violence case
June 17, 2022
Cleveland Jewish News
Custody cases deserve attention of attorney
April 22, 2022
Cleveland Jewish News
International case involving 'get' reaches Supreme Court
March 16, 2022
Cleveland Metropolitan Bar Journal
Women in Law
April 2020
Cleveland Jewish News
Supreme Court hears international residence case
December 13, 2019
The Spectrum, WCMH-TV NBC 4 – Video
Zashin & Rich International Child Custody Case to US Supreme Court
December 10, 2019
ABC 13 TV – Video
Supreme Court to hear international custody case involving Ohio mother
December 10, 2019
Cleveland.com
U.S. Supreme Court to hear international child custody dispute from Cleveland area
December 10, 2019
Case Western Reserve University School of Law
U.S. Supreme Court hears arguments in case briefed by CWRU law school faculty
December 9, 2019
Cleveland Jewish News
International residence case moves to US Supreme Court
June 21, 2019
Hollywood Life
Khloe Kardashian and Tristan Thompson's Custody Case Could Get 'Very Messy': Lawyer Explains
February 27, 2019
2018 Ohio Super Lawyers
Cleveland family law attorney Andrew Zashin gets a 6th Circuit ruling that brings consistency to cases involving vulnerable children
November 8, 2018
Your Teen for Parents: Guide to Parenting through Divorce
Advocating for Yourself During a Divorce: 3 Tips from a Divorce Attorney
October 2018
Case Western Reserve University School of Law
Adjunct Professors Zashin, Keating and Reynolds take on path-breaking Hague Convention Case
June 21, 2018
2018 Ohio Super Lawyers
Family law attorney Andrew Zashin asks the 6th Circuit to bring consistency to cases involving vulnerable children
June 19, 2018
Cleveland Jewish News
Landmark international residence case could impact those making aliyah
June 14, 2018
WJR Detroit – Audio Interview
Attorney Andrew Zashin chats with Guy Gordon to discuss the new Illinois law for dogs when parents are getting a divorce.
January 2, 2018
Cleveland Jewish News
Surrogacy, child custody laws develop as cases arise
November 21, 2017
Smart Business Cleveland
2017 Smart Business Family Business Achievement Awards
September 2017
Crain's Cleveland Business
Ohio Employers Confront Marijuana Use
July 22, 2017
Lake View Cemetery Heritage ReView
Trustee Spotlight: Andrew Zashin
Spring 2017
Sports Illustrated
Lane Johnson's Bold Move To Sue His Own Union Is Rare, But Not Unprecedented
January 11, 2017
Law360
Packers Player Drops NFL Drug Suspension Dispute
December 19, 2016
Sports Business Daily
NFL, NFLPA Appoint Das As Third Arbitrator In Michael Pennel Lawsuit
December 5, 2016
Sports Business Journal
Eagles Lineman Challenges NFL and NFLPA in NLRB Filings
December 5, 2016
Law360
Eagles Lineman Says Suspension Violates Federal Labor Law
November 29, 2016
The Business of Sports with Andrew Brandt
RTAB #30: Lane Johnson's Legal Team (Audio Interview)
November 29, 2016
Cleveland Jewish News
Ohio Woman Receives Orthodox Divorce Decree
January 14, 2016
BNA's Health Law Reporter
Surprise! The NLRB Says You Just Might Be a 'Joint Employer'
September 24, 2015
BNA's Health Law Reporter
NLRB Adopts New Joint Employer Standard; Ruling Could Affect Health-Care Industry
September 3, 2015
BNA's Health Law Reporter
Challenge to NLRB Election Rule Fails; Employers Urged to Prepare New Game Plan
June 11, 2015
American Bar Association Section of Labor and Employment Law
Member Spotlight: George S. Crisci
April 13, 2015
The Plain Dealer
Attorney Goes To Bat for Northeast Ohio
January 18, 2015
Cleveland Jewish News
Profile on Andrew Zashin
January 15, 2015
"Here and Now" National NPR Show - Audio Interview
In A Divorce, Who Gets To Keep The Dog?
December 4, 2014
Crain's - Article and Video
Zashin & Rich embraces Cleveland roots and rock 'n' roll heritage
November 16, 2014
BNA's Health Law Reporter
Justices Reject NLRB Recess Appointments; Significant Health Care Decisions in Limbo
July 10, 2014
BNA's Health Law Reporter
The EEOC and FTC Turn Up the Heat on Employer Background Checks
April 2014
Crain's
Zashin & Rich move marks big milestone
for E&Y Tower
November 2013
Cleveland.com
Zashin & Rich law firm leases last full floor of Ernst & Young Tower at Flats East Bank project
November 2013
Associated Press
US Claims Father Illegally Moved Kids to Gaza
May 2012
2012 Ohio Super Lawyers
Mentors | Andrew Zashin: Reminiscing About Robert Zashin
January 2012
CCH Employment Law Daily
NLRB NEWS - Controversy Erupts Over NLRB Recess Appointments
January 2012
Huff Post
Divorce's Impact On Small Businesses Can Be 'Immense'
October 2011
The Today Show - Video
Accused Facebook bigamist heads to court
September 2010
MSNBC
Facebook Busts Accused Bigamist - Woman Finds Her Prince Charming Has Married Another
July 2010
WKYC - Article and Video
Cleveland woman discovers husband's 'other' wife via Facebook
July 2010
Cleveland Jewish News
New custody center in Israel is Zashin's passion
January 1, 2010
Worth Magazine
Top 100 Attorneys 2007
Andrew Zashin
Inside Business Magazine
Connecting Through Separation
Profile on Andrew Zashin
December 2007
Cleveland Jewish News
Valuing and dividing assets at the time of divorce
By Andrew Zashin, Esq.
February 2007
Case School of Law: In Brief
Plugged into Family, the Law, and Cleveland
Alumni Spotlight on Andrew Zashin
Spring 2005
Cleveland Magazine
The Divorcing Woman's Best Friend
Feature Article Profiling Andrew Zashin
November 2004
Crain's
Companies should consider coverage against employee-related claims
By Stephen Zashin | July 2004
Crain's
ADR programs can save dollars and time
By Stephen Zashin | November 2003
COSE Update: Legal Ease
One Size Does Not Fit All
(Employment Practices Liability Insurance)
By Stephen Zashin
COSE Update: Legal Ease
Noncompete Agreements
By Michele Jakubs
COSE Update: Legal Ease
Ohio's 'Baby COBRA' Law
By Helena Oroz
WKYC.com - Article and Video
Cleveland woman discovers husband's 'other' wife via Facebook
July 29, 2010 | By Eric Mansfield | Download PDF of Article
---
---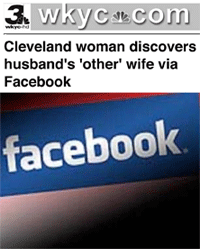 She knew her husband took a lot of business trips. Now she knows why.
"Megan" said she didn't suspect her husband of another marriage until the evidence was on her computer screen.
Her relatives pointed her to the other woman's Facebook page where Megan discovered multiple photos of her husband and the woman together.
A few weeks later, dozens of wedding photos also showed up on Facebook showing Megan's husband and his new bride.
"It's rubbing that salt into the wound of already finding out that my husband's having an affair," Megan said. "The pictures are out there for the world to see. It's not just that I have the knowledge, but I see the proof and everyone I know sees the proof and people I don't know see the proof."
Megan's wedding took place in Italy in 2005, and by 2008, the couple had two children and a home in a Cleveland suburb. As a businessman with his own plane, Megan's husband traveled a lot around the country and across the world.
Megan said she first became suspicious when her husband claimed to have been in China and even brought back gifts for the kids yet his passport had been at home the entire time.
To eventually learn on Facebook that her husband not only had another lover but now a second wife was devastating, Megan said. "If they're going to have the affair, they're going to have the affair," she said. "But it's extra. It adds impact to the hurt, when they're posting the things they post about the affair. Pictures of the vacations they're taking with the other, the lover, the extra person. (Facebook posts) just cause a whole new hurt."
Common mistakes
Divorce attorneys are finding a staggering increase in evidence gathered through social media, according to CNN.
Andrew Zashin, a family law expert from Cleveland, said the artificial "celebrity" status that Facebook creates often clouds people's judgment of how those posts and others will come back to hurt them in court.
If someone's having an illicit relationship, they don't know what the other side of that relationship is broadcasting to the world on Facebook," Zashin said. "Often times we'll see a man or woman denying an affair or a relationship. All of sudden, things start to unravel, not because they did something but because the other part of this illicit relationship did something using social media.
An attorney for Megan's husband say that he doesn't believe he needs a divorce because he learned after the fact that the marriage paperwork was never filed correctly in Italy and therefor they were never married.
Megan claims everything with the marriage was done "by the book" and that a prenuptial agreement was signed.
She plans to use pictures, posts, and other information from Facebook in her eventual divorce hearing.