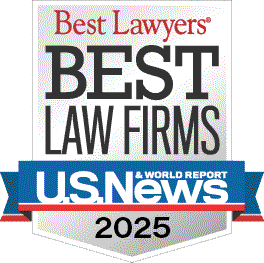 Z&R Press
Press and Media
Cleveland Jewish News
Consulting attorney early can be key in domestic violence case
June 17, 2022
Cleveland Jewish News
Custody cases deserve attention of attorney
April 22, 2022
Cleveland Jewish News
International case involving 'get' reaches Supreme Court
March 16, 2022
Cleveland Metropolitan Bar Journal
Women in Law
April 2020
Cleveland Jewish News
Supreme Court hears international residence case
December 13, 2019
The Spectrum, WCMH-TV NBC 4 – Video
Zashin & Rich International Child Custody Case to US Supreme Court
December 10, 2019
ABC 13 TV – Video
Supreme Court to hear international custody case involving Ohio mother
December 10, 2019
Cleveland.com
U.S. Supreme Court to hear international child custody dispute from Cleveland area
December 10, 2019
Case Western Reserve University School of Law
U.S. Supreme Court hears arguments in case briefed by CWRU law school faculty
December 9, 2019
Cleveland Jewish News
International residence case moves to US Supreme Court
June 21, 2019
Hollywood Life
Khloe Kardashian and Tristan Thompson's Custody Case Could Get 'Very Messy': Lawyer Explains
February 27, 2019
2018 Ohio Super Lawyers
Cleveland family law attorney Andrew Zashin gets a 6th Circuit ruling that brings consistency to cases involving vulnerable children
November 8, 2018
Your Teen for Parents: Guide to Parenting through Divorce
Advocating for Yourself During a Divorce: 3 Tips from a Divorce Attorney
October 2018
Case Western Reserve University School of Law
Adjunct Professors Zashin, Keating and Reynolds take on path-breaking Hague Convention Case
June 21, 2018
2018 Ohio Super Lawyers
Family law attorney Andrew Zashin asks the 6th Circuit to bring consistency to cases involving vulnerable children
June 19, 2018
Cleveland Jewish News
Landmark international residence case could impact those making aliyah
June 14, 2018
WJR Detroit – Audio Interview
Attorney Andrew Zashin chats with Guy Gordon to discuss the new Illinois law for dogs when parents are getting a divorce.
January 2, 2018
Cleveland Jewish News
Surrogacy, child custody laws develop as cases arise
November 21, 2017
Smart Business Cleveland
2017 Smart Business Family Business Achievement Awards
September 2017
Crain's Cleveland Business
Ohio Employers Confront Marijuana Use
July 22, 2017
Lake View Cemetery Heritage ReView
Trustee Spotlight: Andrew Zashin
Spring 2017
Sports Illustrated
Lane Johnson's Bold Move To Sue His Own Union Is Rare, But Not Unprecedented
January 11, 2017
Law360
Packers Player Drops NFL Drug Suspension Dispute
December 19, 2016
Sports Business Daily
NFL, NFLPA Appoint Das As Third Arbitrator In Michael Pennel Lawsuit
December 5, 2016
Sports Business Journal
Eagles Lineman Challenges NFL and NFLPA in NLRB Filings
December 5, 2016
Law360
Eagles Lineman Says Suspension Violates Federal Labor Law
November 29, 2016
The Business of Sports with Andrew Brandt
RTAB #30: Lane Johnson's Legal Team (Audio Interview)
November 29, 2016
Cleveland Jewish News
Ohio Woman Receives Orthodox Divorce Decree
January 14, 2016
BNA's Health Law Reporter
Surprise! The NLRB Says You Just Might Be a 'Joint Employer'
September 24, 2015
BNA's Health Law Reporter
NLRB Adopts New Joint Employer Standard; Ruling Could Affect Health-Care Industry
September 3, 2015
BNA's Health Law Reporter
Challenge to NLRB Election Rule Fails; Employers Urged to Prepare New Game Plan
June 11, 2015
American Bar Association Section of Labor and Employment Law
Member Spotlight: George S. Crisci
April 13, 2015
The Plain Dealer
Attorney Goes To Bat for Northeast Ohio
January 18, 2015
Cleveland Jewish News
Profile on Andrew Zashin
January 15, 2015
"Here and Now" National NPR Show - Audio Interview
In A Divorce, Who Gets To Keep The Dog?
December 4, 2014
Crain's - Article and Video
Zashin & Rich embraces Cleveland roots and rock 'n' roll heritage
November 16, 2014
BNA's Health Law Reporter
Justices Reject NLRB Recess Appointments; Significant Health Care Decisions in Limbo
July 10, 2014
BNA's Health Law Reporter
The EEOC and FTC Turn Up the Heat on Employer Background Checks
April 2014
Crain's
Zashin & Rich move marks big milestone
for E&Y Tower
November 2013
Cleveland.com
Zashin & Rich law firm leases last full floor of Ernst & Young Tower at Flats East Bank project
November 2013
Associated Press
US Claims Father Illegally Moved Kids to Gaza
May 2012
2012 Ohio Super Lawyers
Mentors | Andrew Zashin: Reminiscing About Robert Zashin
January 2012
CCH Employment Law Daily
NLRB NEWS - Controversy Erupts Over NLRB Recess Appointments
January 2012
Huff Post
Divorce's Impact On Small Businesses Can Be 'Immense'
October 2011
The Today Show - Video
Accused Facebook bigamist heads to court
September 2010
MSNBC
Facebook Busts Accused Bigamist - Woman Finds Her Prince Charming Has Married Another
July 2010
WKYC - Article and Video
Cleveland woman discovers husband's 'other' wife via Facebook
July 2010
Cleveland Jewish News
New custody center in Israel is Zashin's passion
January 1, 2010
Worth Magazine
Top 100 Attorneys 2007
Andrew Zashin
Inside Business Magazine
Connecting Through Separation
Profile on Andrew Zashin
December 2007
Cleveland Jewish News
Valuing and dividing assets at the time of divorce
By Andrew Zashin, Esq.
February 2007
Case School of Law: In Brief
Plugged into Family, the Law, and Cleveland
Alumni Spotlight on Andrew Zashin
Spring 2005
Cleveland Magazine
The Divorcing Woman's Best Friend
Feature Article Profiling Andrew Zashin
November 2004
Crain's
Companies should consider coverage against employee-related claims
By Stephen Zashin | July 2004
Crain's
ADR programs can save dollars and time
By Stephen Zashin | November 2003
COSE Update: Legal Ease
One Size Does Not Fit All
(Employment Practices Liability Insurance)
By Stephen Zashin
COSE Update: Legal Ease
Noncompete Agreements
By Michele Jakubs
COSE Update: Legal Ease
Ohio's 'Baby COBRA' Law
By Helena Oroz
Cleveland Jewish News
Ohio Woman Receives Orthodox Divorce Decree
January 14, 2016 | By Carlo Wolff | Quotes by Andrew Zashin

Links to additional articles on "gets" on Z&R Family Law Blog:
How to Get a Religious Divorce in a Secular State
Religious Agreements, Secular Courts, and Children
Seeking to Enforce Religious Agreements in a Secular Court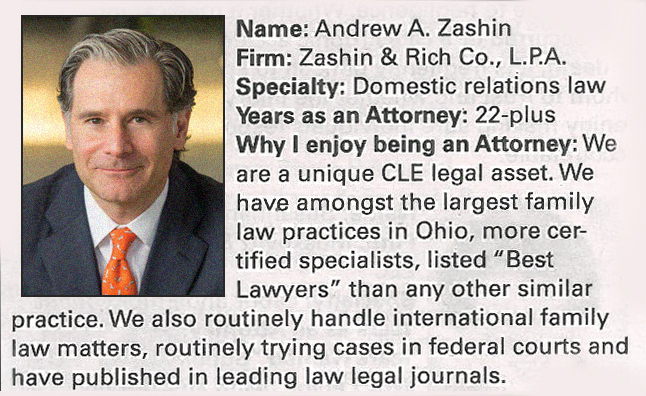 Adina Porat is free.
Her marriage to the man once known as David Porat is over after 26 years. The woman now has a get, the document that brings closure to a Jewish divorce, and is free to remarry and, should she desire, have children. Legitimate children.
Adina Porat got the get Jan. 7 when a special agent appointed by a rabbinical court in Jerusalem handed it to her.
Her get is a triumph for a new form of social pressure, suggested Rabbi Binyamin Blau of Green Road Synagogue in Beachwood.
Even though David Porat, now known as Eli Shur, left Israel, left the Orthodox community and assumed a different name, a combination of social media and boots on the ground persuaded him to grant the divorce, Blau said.
Porat lives in Elazar, a small town south of Jerusalem. Shur lives in suburban Dayton. They were married in 1990. Their five children either live with Porat or are grown up and out on their own. Shur moved out of their home in 2007, settling in Kettering and working as a "life coach."
Porat refused to comment either by phone or email. Shur did not respond to a voicemail request for comment that the Cleveland Jewish News left on his work phone.
The Porat case is a high-profile example of issues surrounding the get, which one divorce lawyer calls an anachronism. A tenet of halachic law, the get can be highly contentious. It's the subject of "Gett: The Trial of Viviane Amsalem," a powerful movie that has become a staple of Cleveland screens.
The information about the case, which became a Jewish cause celebre when Shur refused to give Porat a get, comes from sources including Blau and Green Road Synagogue Rabbi Emeritus Melvin Granatstein, who attended a rally outside Shur's house Nov. 8. Other sources are Rabbi Jeremy Stern, director of the New York-based Organization for the Resolution of Agunot; Andrew Zashin, a Cleveland divorce attorney who also writes a monthly column for the CJN; and the Dayton Jewish Observer.
"Agunot" means "chained woman," so an unchained woman with a get is free to remarry and reproduce. The offspring of a woman lacking a get are illegitimate, or bastards known as "mamzers," said Zashin.
In a Jewish divorce, the woman needs a get so she can remarry and reproduce, he said. If a woman has a child but no get, that child is a mamzer, "a certain Jewish status that exists forever and is passed on," like a curse. A mamzer can only marry a mamzer, he added.
"It's a horrible Jewish anachronism in our situation now, and that's why Orthodox people are now demanding a prenuptial agreement that demands that at the time of divorce, the husband must give the wife a get," Zashin added, calling the prenup the "Orthodox solution to this problem."
The pressure is on
Rabbi Granatstein and his wife, Malka, were among 80 people, mostly from Cleveland and Detroit, to attend that early-November rally in suburban Dayton. The Granatsteins knew Adina Porat's parents when they lived in the Cleveland area in the early 1990s.
A forum on issues surrounding the get took place in Beachwood Nov. 20-22, and ORA posted a video about Porat's situation on its website.
"In my life, I'm stuck in a prison," Porat said in the video. "I can't move on. I can't continue. The kids never had a chance to have a stepfather, a new family, and to continue with their lives."
Shur agreed to give Porat her get after ORA agreed to take down the video, which went viral, generating more than 68,000 views. It is no longer online. Shur signed the get in late December, according to the Observer newspaper. It took effect on Jan. 7.
Granatstein said he got the news about a week ago from Naomi Tabory, Adina's mother. Naomi and her husband, Rabbi Binyamin Tabory, live in Alun Shivod, Israel, near Jerusalem. Rabbi Tabory led a study institute, Torat Tzion Kollel, at Bet Sefer Mizrachi in University Heights in 1991-92. Bet Sefer Mizrachi is now Fuchs Mizrachi School in Beachwood.
Granatstein said Porat is a very private person, but her parents and children urged her to act. "With ORA we were really able to bring the heat to bear," he added, noting the reach and impact of the video. "That's the beauty of the Internet, that you can do things like this. More often than not, these things can work." Granatstein said he and Rabbi Tabory are "friends from our Yeshiva (University) days."
"I'm very, very happy for her and for her family," Blau said of Porat Jan. 13. "I'm happy that she's finally able to move on with her life and I'm particularly pleased for her father, who is very sick and really wanted to see this happen in his lifetime."
Blau said withheld gets aren't a "common problem" in Cleveland's Jewish community. "Even if it happens infrequently, that's too many times," he added.
Blau noted gets can be used for leverage and spite.
Rabbis play two positive roles in such situations, he said: "One is providing comfort and support to the woman during the process and the second is trying to find persuasive means of moving the husband to where he needs to be."
Here, the husband had left Israel for another country, changed his name and "wasn't part of a religious community," Blau said.
"In a smaller, tightknit community where the person remains in the community, social pressures are very persuasive," he added. "But in the modern era, where people just relocate, what was heartwarming about this case is social media allowed there to be pressure even though the person had left the community.
"The combination of the demonstration, the Facebook campaign and her video going viral really made a difference. After the campaign, a week later, she got the get."
The big get picture
According to Rabbi Jeremy Stern, who founded ORA in 2002, the Porat case is the 253rd ORA has resolved. The organization is working on 70 active agunah cases.
As for the Porat case, Stern pointed to the role of social pressure – and the power of shame. Asked what he thought turned the tide in favor of Porat, he replied in an email:
"This was a collaboration between many professionals and volunteers who worked together on Adina's behalf. ORA's social media campaign and peaceful demonstration outside of Dovid/Eli's home served as a major step forward in resolving the case. Those efforts shook him up and made him infamous, so it became clear to him that he could not flee again. In my humble opinion, that forced him to finally come to face with what he had done by refusing to give a get. Adina's attorney worked extremely hard in structuring a final resolution to the case in which all outstanding issues would be resolved and neither side would further pursue the other."