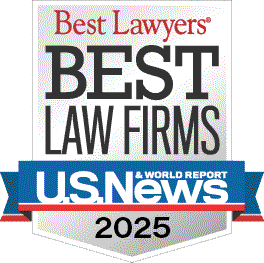 Sarah J. Moore
Education
Cleveland-Marshall College of Law
J.D., 1995
Canisius College
B.A. in Philosophy, 1992
---
Admissions
State: Ohio
Federal: United States Supreme Court
Federal: U.S. Court of Appeals for the Sixth Circuit
Federal: U.S. District Court, Northern District of Ohio
Federal: U.S. District Court, Southern District of Ohio
Federal: U.S. District Court, Eastern District of Michigan
---
Sarah J. Moore
About Sarah
Sarah Moore has served both public and private sectors for over 25 years regarding labor and employment matters. Sarah has utilized traditional, modified, and IBB bargaining models in negotiations with unions that include AAUP, AFSCME, Cleveland Building Trades, CWA, IAFF, IBEW, FOP, NCF&O, OAPSE, OEA/NEA, OFT/AFT, OPBA, Laborers, SEIU, Steelworkers, Teamsters, and UAW. She regularly supports management with contract administration and handles arbitrations and factfinding proceedings. Sarah also litigates labor issues before state and federal courts (including injunctions and mandamus actions) and administrative agencies (ULPs and representation matters).
Sarah advocates on employment matters in state and federal courts, including issues of benefits and pay, discrimination, harassment, restrictive covenants, as well as constitutional and contract-based claims. She has also litigated workers' compensation appeals, negligence, and special education cases. Sarah has appeared before the following administrative agencies: Equal Employment Opportunity Commission, National Labor Relations Board, U.S. Department of Labor, U.S. Department of Education – Office for Civil Rights, Ohio Civil Rights Commission, State Employment Relations Board, State Personnel Board of Review, civil service commissions, Ohio Department of Job & Family Services, Ohio Bureau of Workers' Compensation, Industrial Commission of Ohio, Ohio Board of Tax Appeals, and various county boards of revision.
Sarah lectures frequently on various topics including: collective bargaining; avoiding unfair labor practices; labor contract administration; employee evaluation, discipline, and termination; social media and workplace implications/policies; workplace violence prevention; drug testing and marijuana; and anti-discrimination/harassment, diversity and inclusion. She has taught Labor Law and Collective Bargaining courses at the Cleveland-Marshall College of Law and Cleveland State University's Nance College of Business administration.
In 2016, Sarah received a Burton Award for Distinguished Legal Writing.
Contact Sarah (sjm@zrlaw.com) at 216.696.4441 | Print Profile

"If you don't like something, change it.
If you can't change it, change your attitude."
– Maya Angelou
---
Publications
"Leading Responsibly in the Time of #MeToo" Industry Week (October 3, 2018)
"U.S. Supreme Court Strikes Massive Blow against the National Labor Movement" Crain's Cleveland Business (June 28, 2018)
"Landmark Transgender Discrimination Ruling" Crain's Cleveland Business (April 5, 2018)
"Workplace Best Practices for Using AI and Robots" Law 360-Practical Guidance (December 20, 2017) also published as "Counseling Employers on the Legal Implications of Artificial Intelligence and Robots in the Workplace" Lexis Practice Advisor Journal (Special Edition 2018)
"Artificial Intelligence in the Workplace" Ohio Lawyer, Vol. 31, No. 6 (November/December 2017)
"Watch for the Fox in your Henhouse: Gig Companies at Risk" Asia IP, Vol. 9 Issue 5 (May 2017)
"The Future is Now: Artificial Intelligence in the Workplace" Attorney at Law Magazine (May 17, 2017) also published as "The Future is Now: Artificial Intelligence in the Workplace" Crain's Cleveland Business (April 7, 2017)
"Supreme Court Ushers in New Age of Education for Students with Disabilities Unable to Achieve Grade level in a Regular Classroom" Wolters Kluwer Law & Business Judiciary Watch (March 24, 2017)
"How Employers can Safeguard the Workplace against Data Breaches" Akron Legal News (March 15, 2017)
"You're Hired: What Would Puzder's Selection as Labor Secretary Mean for Employers?" Attorney at Law Magazine (January 1, 2017)
"How Will OSHA's New Regulations Impact Post-Accident Drug Testing?" Attorney at Law Magazine (December 20, 2016)
"How Will Education Be Shaped Under Trump" Akon Legal News (December 1, 2016)
"Experts Weigh in on Title IX Transgender Regulations" Akron Legal News (July 27, 2016); Part 2 (August 17, 2016); Part 3 (August 31, 2016); Part 4 (September 21, 2016)
"Republican National Convention Ignites Heated Political Speech in Northeast Ohio Workplaces" Crain's Cleveland Business (July 15, 2016)
"Five Things Employers Should Know About Ohio's Medical Marijuana Law" Ohio State Bar Association (June 20, 2016)
"The Inevitable Elimination of Pay Secrecy in the Workplace" Inside Counsel (January 12, 2016)
"Ohio Employers Need Not Be Hazy About Marijuana in the Workplace" Crain's Cleveland Business (October 29, 2015)
---
Press
"Will Trump Change the Way Colleges Seek Diversity?" Inside Higher Ed (July 9, 2018)
"Legal Experts Weigh in on the Impact of AI" Akron Legal News (May 24, 2017)
"How Employers can Safeguard the Workplace against Data Breaches" Crain's Cleveland Business (March 13, 2017)
"SCOTUS Oks Discrimination Lawsuits vs. Schools, Even as Administrative Proceedings Continue" Cook County Record (March 9, 2017)
"A Look at Possible Labor Policy Changes under Trump" Akron Legal News (January 19, 2017)
"K-12 Policy and the Election" Education Week (January 19, 2017)
"Legal Guidance for Employers Dealing with Intermittent FMLA Requests" Akron Legal News (September 26, 2016)
"Ohio Marijuana Law Won't Change Zero-Tolerance Policies" SHRM (August 3, 2016)
"Ohio Employers Need to Prepare for State's New Medical Marijuana Law Attorney Says" Legal Newsline (June 27, 2016)
"Despite Orlando Tragedy, Employers Should Still Report Concerns about Co-Workers" Florida Record (June 14, 2016)
"Public Union Fees Fight May See Another Day at High Court" Law 360 (March 29, 2016, 7:03 pm)
"Unions Claim Victory in 4-4 Supreme Court Tie: Cleveland Area Reaction" Cleveland.com (March 27, 2016)
"Bill Seeks to Overhaul Employment Discrimination Laws" Akron Legal News (February 19, 2016)
"The End of Pay Secrecy" Human Resource Executive (February 4, 2016)
"EEOC's Data Collection Proposal Could Spike Litigation against Employers" Business Insurance (February 2, 2016)
"EEOC Wants to Collect Pay Data to Beat Discrimination" Corporate Counsel (February 1, 2016)
"Obama Aims to Close the Wage Gap with a New Proposal for Salary Transparency" Fast Company (February 1, 2016)
"Obama Announces New Rule Requiring Employers to Disclose Pay Data" National Public Radio – All Things Considered (January 29, 2016)
"There is No Future for Pay Secrecy" FindLaw (January 22, 2016)
"Does Your Business Need a Drone Policy?" Fortune (December 29, 2015)
---